Direct mail is a proven resource for effectively marketing to healthcare providers. When used in tandem with your other campaigns, it can heavily reinforce the impact of your messaging, and properly utilizing QR codes with your direct mail deployments can be a determining factor in whether members of your audience will engage more meaningfully with your brand.
What Are QR Codes & How Do They Work for HCP Marketing?
QR codes are very useful in facilitating the transition from a physical medium such as direct mail to a digital platform where users can interact with your website and content, browse products and services, and eventually convert into customers.
Also known as quick response codes, they are machine-readable labels in the form of matrix barcodes that users can scan to receive information on a specific product or service, or be redirected to a related website.
Typically, people can scan these using mobile devices, and are instantly led to the brand's site or product offerings. Because of the versatility of the 2D barcode design, they can be applied to products, print and television ads, websites, billboards, direct mailers, and more.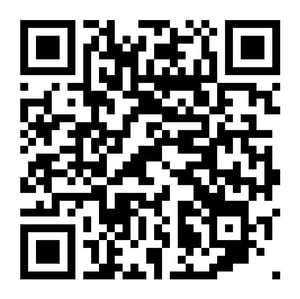 For example, can use your smartphone to scan this QR code and download our Count Catalog, where you can see a full list of the healthcare specialties in our database and the exact number of contacts we have for each.
QR codes were originally developed in 1994 by Japanese company Denso Wave to easily track vehicles and quickly scan manufacturing components. It wasn't until around 2010 when mobile applications were capable of such scanning that they were introduced to mainstream audiences.
Since then, they have gained significant traction as a marketing tool and an efficient means of prompting further brand interaction with healthcare audiences, especially since use during Covid-19 pandemic revitalized the technology.
Benefits of Utilizing QR Codes in Your Direct Mail Strategies
The use of QR codes is emerging as a standout trend in the marketing industry that can elevate the impact of direct mail messaging while encouraging easy online engagement and conversion opportunities.
Implementing them into direct mail strategies provides crucial advantages for HCP marketers hoping to connect with audiences in a worthwhile way.
Here are some benefits of using QR codes in your HCP direct mail marketing strategy:
Enables Meaningful Brand Engagement
On their own, direct mail campaigns can enhance the reach and impact of your messaging, however, the addition of these codes to your mailers can help bridge the gap between audiences' offline and online marketing interactions—providing a single, seamless experience as they progress through the stages of the buyer's journey.
Your prospects won't have to remember specific URL links when they're inspired to engage with your brand. They can instantly scan the direct mail barcode and be taken to the exact website or resource they need, making it as convenient as possible to interact with your content or offerings.
Cost-Effective & Scalable
Generating QR codes are a very inexpensive and impactful way to highlight specific products and services or lead users to the appropriate website or resources to encourage further interaction and customer conversions.
Their cost efficiency, ease of use, and effectiveness make their implementation in direct marketing deployments not only advantageous, but an obvious no-brainer for marketers looking to extend the potency of their messaging.
Easily Traceable
They make it easy to track relevant key performance indicators (KPIs), and when coupled with direct mail campaigns, can help better monitor their impact and progress while revealing useful information about audience behaviors and preferences.
Monitoring the QR code responses from your direct mail campaigns can give important insights about your healthcare audience including location, time and date of when they scanned the code, what device they used, and how they engaged with your platform. Understanding scan rates and overall performance can divulge a lot about your audience, as well as help track the effect of direct mail campaigns more accurately.
Appeals to Mobile Audiences
Another benefit to QR codes is their focus on mobile-centric audiences.
According to a report from Pew Research Center, 97 percent of Americans above the age of 18 own a cellphone, and 85 percent have a smartphone. Since 2017, smartphone manufacturers have been including QR code reading software in all models, making the use of the codes more convenient and common.
This development opened the doors for marketing companies to apply the technology more widely—with greater results. Not everyone has 24/7 access to a computer or laptop, but most people carry their phone with them everywhere, giving them the ability to engage from wherever they are.
Best Practices for QR Codes in Direct Mail Campaigns
The use of these codes for any of your direct mail marketing strategies should be well thought out and deliberate in its targeting, including recipients' stages of the buyer's journey, and intended actions.
Here are some proven methods for maximizing the effectiveness of this technology in your direct mail efforts:
Optimize Content for Mobile Platforms
Since QR codes are usually accessed by mobile devices, ensuring your website and content offerings are as mobile friendly as possible can make all the difference in whether recipients continue to engage with your brand content further.
Go the extra step to make sure wherever your QR code leads prospects, it is optimized for their mobile experience.
Consider the Best Size & Placement
QR codes don't have to take up a lot of room or feature as a centerpiece on your mailers. Generally, the minimum size of your code should be about two centimeters in length and width to be easily scannable by devices. You don't want it to be so small that it can be overlooked or unreadable, or so large your audience needs to stand back to reorient the viewfinder focus.
Be sure to also consider where on your mailer you want your QR codes featured. If you plan on producing a unique or interactive direct mail element, utilize the tactile experience to ensure it is prominent. One option is to display it on one side of a custom 3D pop-up.
Whatever you do, make sure it is easily visible, scannable, and doesn't distract too much from the actual content and intent of your messaging.
Indicate Where They Will Direct Users
Be transparent about what exactly users will get out of scanning your code. Much like other calls to action, they're more effective and impactful when providing clear and actionable information.
Include URL Links
While QR codes can be incredibly effective, you shouldn't solely depend on them. Instead, use them to bolster the impact of messaging and encourage digital engagement. Be sure to also include a URL link for users who don't have their smartphones handy.
You want to be sure you appeal to mobile audiences, but you also don't want to neglect those prospects who want the traditional desktop experience.
QR codes are a phenomenal way to streamline communication with targeted healthcare prospects through direct mail. To ensure you use them in the most effective way possible to achieve long-term success, work with PDQ Communications. Contact us today to find out what we can do for you!